MILITARY AUTHOR RADIO
Cohosts Dr. Tom Gauthier and Dari Bradley



Spotlight on the Medal of Honor
Next program scheduled for March 4, 2014
Military Author Radio is a live program accepting call-ins from interested listeners who may have questions for our guest.

Our live program call in number is:

(347) 308-8613.

Send an email to

Dari@militaryauthorradio.com

if you have a question

or comment.


Join us Tuesday evenings for the live broadcast at 8:00 PM (EST), 7:00 PM (CEN) 6:00 PM (MST) and 5:00 PM (PST) or catch us later in the week with our podcast. Click the link below to be rerouted to the broadcast webpage. Previous year podcasts may be accessed using the navigation links on the left.
Click the link below to be taken to the broadcast
Welcome Back to Military Author Radio!
Director Dr. Tom Gauthier and Dari Bradley CEO of Patriot Media, Incorporated, are glad to be back to promoting Military Authors in support of the Military Author Industrial Complex.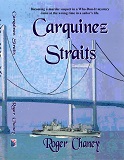 Carquinez Straits author, Roger L. Chaney, LT, USN (Ret.), enlisted in the United States Navy in Indianapolis, Indiana on Halloween Day 1979. He reported to Recruit Training Command, Orlando, Florida for what would be a three-year enlistment, but twenty-three years and ten pay grades later, he retired as a Limited Duty Officer Lieutenant in San Diego, California.
Sea duty tours include a destroyer, two fast frigates, an amphibious cargo ship, an ammunition ship and an aircraft carrier. He visited over 20 countries during his naval career, serving on two admiral staffs and at numerous shore and weapons installations along the east, west and gulf coasts of the United States. Duty Stations include: Combat Logistics Group One, Naval Supply Center Oakland, CA where he served on the Admiral's staff; Naval Ordnance Center, (AMMOPAC) San Diego, CA as Surface Weapons Logistics Officer, Military Sealift Command Pacific Fleet, (MSCPAC) Point Loma, CA, again serving on the Admirals Staff.
While stationed at Naval Station Mayport, FL, Chaney was selected as the 1988 Commander Naval Surface Force Atlantic Fleet Shore Sailor of the Year and was a Finalist for the 1988 Commander in Chief Atlantic Fleet Shore Sailor of the Year. Roger retired from active duty November 2002, Point Loma, CA.
The Chaneys reside in the Midwestern United States where they enjoy restoring vintage Jeeps and traveling to antique car shows and cruise-ins.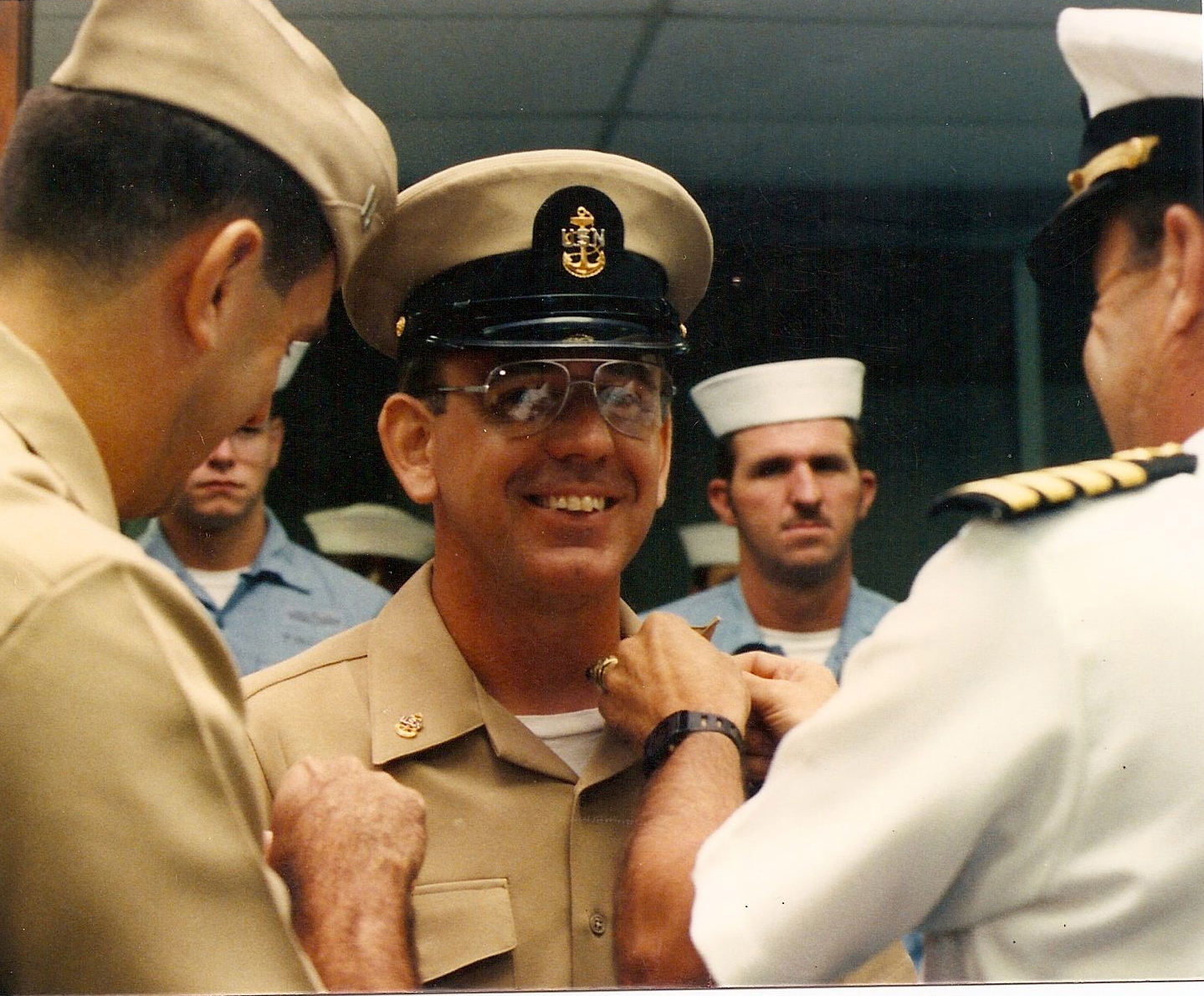 Gunners Mate Chief Petty Officer (Surface Warfare/Air Warfare) Roger Chaney having anchors pinned by Naval Station Mayport, FL Commanding Officer Peter A.C. Long (right) and Weapons Department Head Lieutenant Jim Hall. 1989.
Gunners Mate First Class Petty Officer (Surface Warfare) Roger Chaney Naval Station Mayport FL, Weapons Department Leading Petty Officer. COMMANDER NAVAL SURFACE FORCE ATLANTIC FLEET (COMNAVSURFLANT) Shore Sailor of the Year 1988.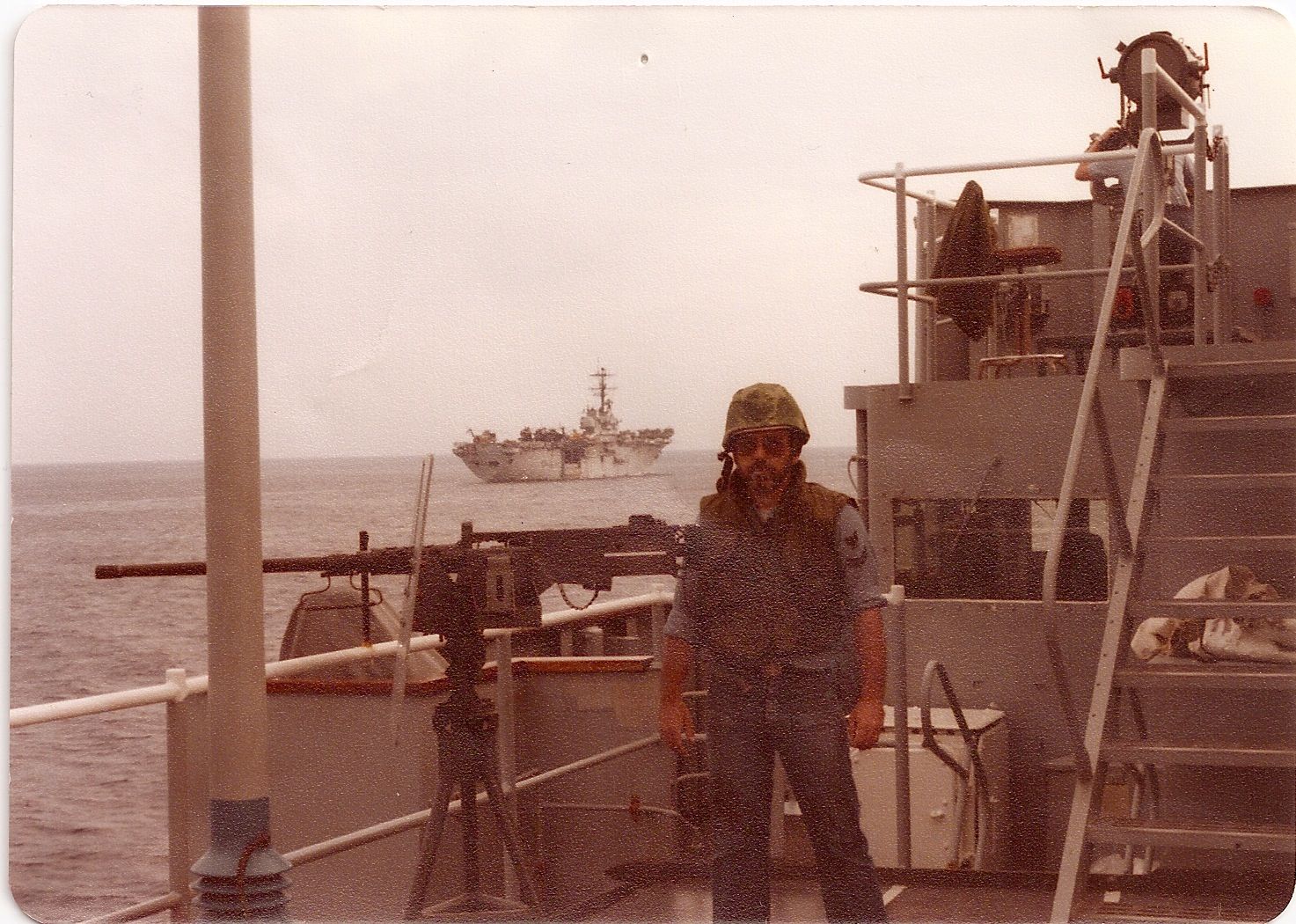 Gunners Mate Second Class Petty Officer Roger Chaney onboard USS W.S. SIMS (FF-1059) standing .50 cal machine gun watch, gun line #1 (one nautical mile off the coast) Beirut Lebanon. USS IWO JIMA in background.